| List | Next > Flight from LUX to Paris CDG, then to San Francisco
Thumbnails:
Click to enlarge!
San Francisco
San Francisco
San Francisco
San Francisco
San Francisco
San Francisco
San Francisco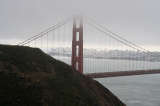 San Francisco
San Francisco
I was awoken at 4:30am by not one, not two, not three, but four alarms this morning. I guess I was being paranoid, because the first one had already done the job. As seems to have become the norm in my apartment building, at 4:30am the water in the shower was lukewarm at best, and I started the day shivering and swearing. I still left in good spirits, because I had slept straight through for around five hours, much better than for my first US trips when my sleep was usually more like prolonged periods of restlessness and anticipation interrupted by short periods of sleep.

5:30 found me waiting for the train to Luxembourg-city, from where I'd take a bus to the airport around twenty minutes later. Both arrived almost on time, and I was at the airport, through security and at the boarding gate at the scheduled time.


A Concorde monument at Paris CDG, as the sun rises The flight to Paris wasn't even half-full (two seats for me, then). Once in Paris, getting through security at terminal 2-F was a hassle, though. Whereas in the old days, one might have had to remove the laptop, on recent flights it's already been the norm that my camera lenses would get a secondary inspection. Today however, I already had to remove the laptop and all camera gear prior to scanning; and then was asked to remove all cables for another go through the scanner. At this point, my bag was pretty empty; and I'm wondering to what inane levels of checking they will do in the future, all for the illusion of safety. I certainly didn't feel any more or less safe, but spent a good five minutes unpacking and repacking before and after security.

The flight to San Francisco wasn't eventful, and after getting through immigration and retrieving my luggage, I took the "Blue Line" train to the car rental center south of the airport. I'd be doing something a little different for transportation this time - rather than just getting what has become my default choice of an Alamo SUV for the duration of all my recent trips, I'd reserved a slightly more exotic car for the first day in and around San Francisco.

In certain locations, Hertz has a "Fun Collection" of cars that go beyond what other rental companies offer. My category of choice was a Corvette ZHZ, a car I figured I'd never own or even get to drive again. Which is why I figured that while I had the means, I could spring for a day's rental - but not more, since 295$ per day (including full insurance and 100 free miles) was a hefty amount.

After a long check-in procedure (for no particular reason) I walked to the car deck and was greeted by three Corvettes, the front-most of which would be mine for the next 24 hours. It was a hard-top, yellow-painted one with black racing stripe. I did a visual inspection, and then proceeded to load my luggage into it. Which turned out to be easier than I'd expected: my two large suitcases fit effortlessly into the large trunk. I'd probably have had more trouble with the convertible reason.
My rental Corvette at Fort Point I left the car parking at around 15:30, and headed north towards San Francisco. Traffic was light for a Friday afternoon, and once I got to San Francisco I decided, of course, to still drive around a little. I visited Coit Tower under a heavily overcast sky, then drove to Lombard Street, past Fisherman's Wharf, and ended up at Fort Point, at the southern end of Golden Gate Bridge. It was there that I got one of a handful of "nice car" comments - from a biker riding a Harley Davidson, in this case. But looks notwithstanding, I hadn't managed to tap more than maybe 10 or 20 percent of the Corvette's potential. San Francisco has a 25mph speed limit in most of the streets I'd driven so far, and the automatic gear box shifted smoothly and at low RPMs.

I took quite a few Golden Gate pictures from the south end, and then crossed the bridge and did the same from the north end in the Marin Headlands. I decided to call it a day at this point, and headed north to San Rafael. I'd reserved a room at a Motel6, so I checked in and then drove over to the nearest Burger King for a Whopper with Cheese, medium fries and a medium soda.

I couldn't sleep at night, so on a whim I decided to head back to the Golden Gate Bridge for some more long exposure shots. However, once I arrived I realized that the lights that illumined the bridge the last time I did this were turned off - whether it was to save energy, or to yield to yet another terrorism scare, I don't know. Either way, it was pitch black and I couldn't even see the bridge from the viewpoint. So much for night photography. Disappointed, I returned to my hotel for a few more hours of sleep.
Miles driven: 69mi (111km)
Accommodation: Motel6 (San Rafael, CA): $77.69
LUX to CDG part written at gate E57 at Paris CDG, completed on 12th February 2011 in Esch-Alzette.