< Previous | List | Next > June Lake Loop, Devil's Postpile, Mono Lake, Bodie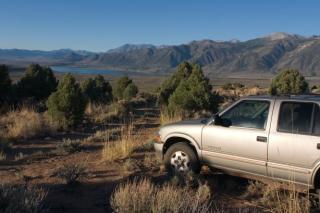 It was only after I woke up at sunrise that I realized where exactly the previous night's driving had brought me: I had a premium view over the Mono Lake basin, but not from the South end as I had originally planned, but looking down from a slightly higher spot in the North.
With my trip inevitably coming to an end, I decided to forego stale bread and jam out of a plastic bottle, and to get a real, decent breakfast in Lee Vining instead. Thus refreshed, I decided to do some more exploring of the eastern edge of the Sierra. This brought me to June Lake Loop first - as the name implies, a small detour off Highway 395 that veers straight into the Sierra and then turns back to the Hwy 395 corridor a few miles later.
The sky was still spotless blue - in fact, I wouldn't have minded a few dispersed clouds to break the monotony in the pictures - and the Sierra put on a grand display of colors: all kinds of shades of gray, red, yellow, green, white.
I stopped for pictures and panoramas quite often, and then headed down 395 for a few miles to get to Devils Postpile National Monument. Just outside of it, I stopped at Minaret Vista, an overlook that affords views of some of the harsher alpine peaks I've seen.
After that quick detour, I drove back to the ticket booth and bus stop - Postpile Rd is blocked to vehicle traffic, and there's a shuttle bus system. I secured my free ticket - thanks to having a Golden Access card (ie. the National Park pass with the $15 Forest service sticker on it) - and was soon on the next bus down into the Monument.
The bus driver was, as the popular saying goes - a real character. She regaled us with stories of bears, and other tidbits. I also spoke to the woman sitting next to me, and as such the short bus ride seemed even shorter.
My knees were still acting up, so I decided to keep my walking to the bare minimum: just slowly walking to the Postpile and back, no detours.
Devils Postpile is probably best described as a collection of pillar-like rocks, one leaning against the other, slightly warped to one side; and then cut open in the middle to expose them to the world.
I hadn't quite timed my visit well, for when I arrived at noon, the sun stood high in the sky, and the only way not to get it into the picture was to crouch below trees; attempting to get the tree to block out the sun while at the same time trying to keep the branches out of the frame.
This was mostly successful, and would have been a more straightforward experience if it hadn't been for the typical crowd of "wow, that looks cool, I need to climb on it!" tourists that also happened to be there when I arrived. As such, I patiently waited, and was rewarded with a few nice pictures - nice enough given the lighting conditions at least. I'm sure I'd have gotten better shots in better light, but I didn't have the patience (or time, for that matter) to just sit around for a few hours and wait for the sun to move.
At the bus stop, I phoned back home to inform my family that indeed, I was still alive, then took the bus back up to my car. After an average KFC lunch, I drove back down to Hwy 395, stopping only for a quick jaunt around the Earthquake Fault area.
A drive up Highway 395 brought me back to Mono Lake, where I briefly stopped for pictures, and then I headed towards Bodie; where I intended to spend the remainder of the day.
The final miles to Bodie are dirt road. It is fairly well graded, but I was still surprised when a moderate bump in the road caused the car's radio to eat the CD it was playing. For all intents and purposes, the radio thought there was no CD anymore. As such, I couldn't eject it; but the CD was still there so I couldn't insert a new one either. I was thus forced to listen to the radio for the remainder of my trip, but of course there weren't many radio stations playing in the Bodie Hills.
I had a few hours of daylight left by the time I arrived in Bodie, so I thought I had ample time to spend on the small buildings outside the park entrance before heading into town, so to speak.
I paid my entrance fee at around 5pm, and spent the next 2 hours taking picture after picture. By 7pm, park rangers were telling people to get ready to leave, since the town closes at sunset. (Which, considering the illustrious history of debauchery of the town in its mining days, is quite funny.) By 7pm, most every building along Main St was covered in shadows anyway, but the colors on the surrounding mountains - still pockmarked by countless tailings and mine entrances - were a warm red-brown.
With nothing else to do but leave, I contemplated for a while to follow Bodie Rd into Nevada to look for a suitable spot to spend the night. The road marker "minimum maintained road - 4 wheel drive only - travel at own risk" and associated bad state of the road quickly convinced that I really shouldn't be doing this... or at least not when I had to return my rental car and catch a flight in a day and a half.
I drove past Bodie after night had already fallen, and was rewarded for my detour by a brilliant full moon just rising over the deserted buildings of the better days.
After taking those few full moon shots, I still drove down to the base of the Bodie Hills, not too far from Highway 395 before I found a suitable spot along the road where I could park my car and spend the night. There were lots of rabbits crossing the road in my approaching headlights, and I was dismayed when I couldn't brake in time to hit one of them. That night, I dreamt of a horribly disfigured rabbit face staring at me.
Miles driven: 203mi (327km)
Accommodation: BLM land (Bodie Hills): $0