< Previous | List | Heading west from Bakersfield, up Highway 1 to Watsonville
Thumbnails:
Click to enlarge!
Highway 1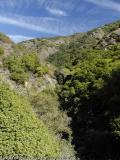 Highway 1
Highway 1
Highway 1
Highway 1
Highway 1
Highway 1
Highway 1
After getting out of Bakersfield, I headed east on Highway 119, passing Ford City, where I took Highway 33 towards Maricopa, and then headed east again on Highway 166. As I'm writing this, I realize that I don't remember anything remarkable about this three-hour drive to Santa Maria, apart from some oil pumps and largely agricultural and unremarkable surroundings. That, and I was running low on fuel and glad to be in Santa Maria.
The Pacific Ocean from San Simeon Beach State Park In Santa Maria, I had a late breakfast, and finally met up with Highway 1 at Guadalupe. My first stop was some time later, at San Simeon Beach State Park for some quick ocean photographs, and then a few miles north of San Simeon where I saw and photographed some sea otters (who, for a casual visitor certainly don't hold much appeal since they are either lazily lying in the dirt, or underwater.)
I headed on, stopping along the way a number of times. Compared to my last drive up Highway 1 in summer 2001, the weather was much nicer, with only sporadic clouds, just a bit of haze, and warmer temperatures. For a while, I followed a new Ford Thunderbird convertible, envying whoever was driving it and promising myself that one of these days, I'd also be driving this road in a convertible.
Sometime around 2pm, I gave in to growing hunger and a slight headache, and stopped at Lucia for lunch. This would turn out to be the most expensive Hamburger I've ever eaten, and I felt slightly odd sitting at my table all alone when all around me there only seemed to be couples who were either married, in love, or both.
Shortly before 3pm, the area around Big Creek (N36° 4.204' W121° 35.768') proved to be a very photogenic spot.
Eventually, I reached Big Sur, heading towards Monterey, and the photographic opportunities decreased. Or perhaps, I had just taken in too much scenery that day, and grew tired of it. I pressed on towards Carmel-by-the-Sea and Monterey, encountering growing traffic, and finally ended my driving in Watsonville at a Motel 6. I pondered about catching a movie at a nearby movie theatre, but in the end only got some take-out from a fast-food joint, and drifted to sleep after watching some TV.
Accommodation: Motel6 (Watsonville, CA): ?
Written Sunday, January 19th 2003 in Luxembourg.